Pieces for Sale
If you see a piece that has been sold or isn't for sale, please inquire about a commission regarding that piece. I can be reached at 360-903-1992 or at the address below. All outdoor pieces are treated to last with tung oil. Payment plans are also available.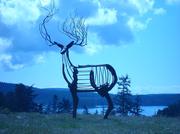 "Atypical" is located in the prestigious Westcott Bay Sculpture Park on San Juan Island. This park has been featured in Sunset Magazine and the New York Times as a West coast premier sculpture park.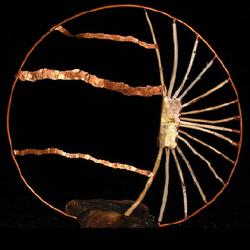 "Last First" is dedicated to my good friend whom I care for and love dearly and would prefer to stay anonymous. See the rest of the Moon Series on the page dedicated to them. All the series available are for sale. Some are in a gallery in LA.
"Soul Fire" is the third horse piece I created and is dedicated to my daughter, Sarah. It was made to be part of a theme with "Untamed." The scenario is "Soul Fire" coming over a hill and finding "Untamed" rearing back. Thus, "Soul Fire" is digging in and stopping quickly. With this piece I experimented with the head. It is the first piece of this design and I have been staying with this head design with the other horse pieces I have done like "The Journey.""Soul Fire's" signature piece of wood is charred and placed by its heart. This sculpture was made with the inspiration of Mexican folklore as told by Clarissa Pinkola-Estes. Whenever a piece of wood is charred it sits dormant until the right wind touches it, igniting it once again. It has been completely treated with a preservative (tung oil) and sits on rebar spikes. This piece was on display at the Art in the Pearl Show in 2008.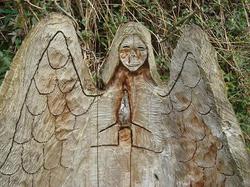 "The Angel Miriam" stands approximately five feet tall and is waiting to bless someones garden. She was created when I took down this 70 foot cedar in sections and discovered it was hollow from about 10 feet down inside. I was planning on doing a life sized Native American and switched to the angel when I made the discovery of it being hollow. It has been completely treated with a preservative (tung oil) and is on river rock supports. Sold to Maggie Monaghan.